1KG
2014.03.28
浏览(1063)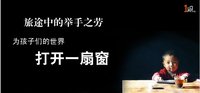 1KG is a way to travel. It is in a relaxed and happy way for travelers to visit rural schools on the road , passing the love and knowledge , while adding meaning to their journey. It is a private charity tourism activities initiated to encourage tourists charitable activities carried little effort to help children in poverty go backward areas .
China now has more than 400,000 rural primary and secondary schools . With continued government investment in education , rural schools and on school tuition and other " hardware " problem has been greatly improved, but in the " software " such as books , computer / internet , Yin Timei education, teacher training , etc. aspects but still has a wide demand.
Meanwhile, the city has a large population of potential resources, but often lack effective means to the country can not be delivered .
Typically, the urban population to obtain information by public interest organizations , and participate in its organization and operations management . However, this mode enables public organizations in the management of each specific activity consumes a lot of manpower and time , and therefore can not respond to the needs of large-scale participation , but also limits the creativity of the participants.
As a fact , according to our statistics , China currently only about 5 percent of rural schools to get over various public organizations limited services .
Faced with this situation, " one kilogram more than the back ," proposed a new public service Solution: Let the public directly involved in the entire operation of the public service activities , and through the power of the public to make rural education can be improved.